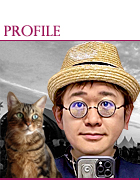 PROFILE 山下スキル yamashita sukiru
■ ロマンティスト、ビリーバー。東京風街に生まれる。風が吹いたら遅刻して、雨が降ったらお休みで、なんやかんやで現在に至る。
■ 音楽が好きです。ポップス、ロック、テクノ、ジャズ、ヒップホップ、民族音楽、現代芸術、映画、演劇、マンガとペヤングを食べてます。たまにDTM、DJ、VJ、ベース、ウクレレします。
■ 物心つく前から動物が好きで猫と暮らしてます。
■ イントネーションは「マサル」や「シゲル」の感じです。↓ス↑キ↓ルさんと呼ばれるとオテモヤンみたいで違和感を覚えます。呼び捨てで結構ですが「さん」をつけるならイントネーションは「クエン酸」です
■ 戦場よりお花畑がいいです。会いに行けるパヨクです。
■ Romanticist, Believer. Born in Kazemachi, Tokyo. I'll be late if the wind blows, and rest when it rains. Somehow, it reaches the present.
■ I like music. I eat pops, rock, techno, jazz, hip-hop, traditional music, contemporary art, movie, theater, manga and Pair-Young Noodle. Sometimes I play DTM, DJ, VJ, bass guitar and ukulele.
■ I love animals for a long time and live with a cat.
■ The intonation of my name is feeling like "Masaru" and "Shigeru". I don't need a honorific, but if you add "san", the intonation is feeling like "Kuen San".
■ I like flower fields better than the battlefield. I am a liberal you can meet.
SNSリンク / SNS LINK

■ 好きな音楽家 [FAVORITE MUSICIANS] ...pop!! esprit!! and sensitive...
AAAMYYY, AATA, Acid Pauli, Adeyemi Tourist, Adhitia Sofyan, Adrian Belew, Africa Express, Afrocubism, あがた森魚 [Agata Morio], Ahmad Jamal, aiko, Aimee Mann, airezias, あっこゴリラ [Akko Gorilla], Aksak Maboul, Alabama Shakes, Albert Ayler, The Album leaf, Al Green, Allen Toussaint, The Aluminum Group, Alzo & Udine, Amadou & Mariam, 天野花 [Amano Hana], Ambitious Lovers, amiinA, あみのず [Aminos], andymori, Andy Partridge, Animal Collective, annasekai, Anna Wise, Annie Ross, Anni Hung, anone, Antonio Carlos Jobim, Antonio Carlos & Jocafi, 青山陽一 [Aoyama Yoichi], Aphex Twin, アポンタイム [Apontime], The Apples In Stereo, aqubi, 荒井由実 [Arai Yumi], 荒木玲奈 [Araki Rena], Arca, Arcade Fire, The Arcadians, Archer Prewitt, Armando Torovajoli, Aretha Franklin, Arrested Development, Arther Lyman, The Art Of Noise, Arto Lindsay, ASA-CHANG&巡礼 [Asa-Chang & Junrei], アサダマオ [Asada Mao], 朝崎郁恵 [Asazaki Ikue], Asgeir, Asian Kung-fu Generation, Asobi Seksu, The Association, Astrud Gilberto, AURORA, Avey Tare, Avicii, Axel Boman, 鮎牛蒡 [Ayu Gobou], ayU tokiO, 吾妻光良 & The Swinging Boppers [Azuma Mitsuyoshi & The Swinging Boppers], Aztec Camera, ババカヲルコ [Baba Kaworuko], Babi, Badfinger, Badly Drawn Boy, Balkan Beat Box, Ballake Sissoko & Vincent Segal, Banti, The Band, Banda Forro Legal, Banks, Barry Manilow, Barry Mann, Baths, Battles, The Beach Boys, Beastie Boys, The Beatles, The Beatniks, The Beautiful South, Becca Mancari, Becca Stevens, Beck, Bedhead, Beirut, Belle and Sebastian, BENEE, Ben Folds Five, Benny Sings, Ben Sidren, Ben Watt, Best Coast, Beth Orton, Beverly Kenney, Be Yokai, B.Fleischmann, Bibio, Big Star, Big Thief, Bill Evans, Billie Eilish, Billie Holiday, Bill Withers, Billy Nicholles, Bing Crosby, BINJU, The Bird and The Bee, Birthh, Bjork, BJ The Chicago Kid, Blake Mills, The Blind Boys Of Alabama, Bloc Party, Blondie Chaplin, Blossom Dearie, Blue Marble, Blur, BMX Bandits, Boards of Canada, Bob Dorough, Bobby Womack, Bob Marley, Boca Livre, Bo Diddley, ボ・ガンボス [Bo Gumbos], Bombay Bicycle Club, Bongo Botrako, Bong Penera, Bon Iver, Bonnie Raitt, Bonobos, The Bonzo Dog Band, Booker T. & the M.G.'s, THE BOOM, Boredoms, Bosques de mi Mente, BOX, Braids, Bread, Brian Eno, Brian Wilson, Bright Eyes, Brigitte Bardot, Brittany Howard, Broken Social Scene, The Broken TV, Bruce Johnston, Bruno Pernadas, Bryan Ferry, Btype Qualia, Buddy Guy, Buddy Holly, Buffalo Daughter, Buffalo Springfield, The Buggles, Burial, Burt Bacharach, The Byrds, Caetano Veloso, Cafe Jacques, The Cairo Gang, Camera Obscura, Candy Opera, Cannonball Adderley, Caribou, Carlos Nino, Carl Stone, Carl Wilson, Caroline, Carol Kaye, Carole King, Cat Power, Carnation, cero, CHAI, The Charlatans, Charles Mingus, Charlie Parker, Charlotte Gainsbourg, Charlotte Lovers, Chassol, チャットモンチー [Chatmonchy], chelmico, Chet Baker, The Chemical Brothers, チヂマツミキ [Chijimatsu Miki], The Chieftains, Childish Gambino, 鎮座DOPENESS [Chinza Dopeness], Chiroline, 超大陸パンゲア [Chotairiku Pangea], Christian Lee Hutson, Chuck Berry, Chvrches, クララズ [Clalas], クラムボン [Clammbon], Clannad, Clark, The Clash, Claude Debussy, Claude Thornhill, Claudine Longet, Cliff Richard, CLOW, Cocco, Cocteau Twins, Coldplay, Colin Blunstone, Computer Magic, コントラリー・パレード [Contrary Parade], Controversial Spark, Corinne Bailey Rae, Cornelius, Cosmo Sheldrake, Count Basie, Courtney Barnett, The Cowsills, Creedence Clearwater Revival, Crosby, Stills, Nash & Young, Crowded House, 盧廣仲 [Crowd Lu], Curt Boettcher, Curtis Mayfield, Cut Copy, ℃-want you!, Cymbals, The Cyrkle, Daft Punk, Damon Albarn, Dana Gavanski, Dan Deacon, D'Angelo, Dan Hicks & His Hot Licks, Daniel Johnston, Daniel Lanois, Darcy James Argue, DAOKO, Darie, Dark Morph, Daryl Hall & John Oates, Daughter, Dave Brubeck, The Dave Clark Five, David Mead. David Bowie, David Byrne, David Crosby, David Gates, Death Cab For Cutie, Deep Foret, The Delano Orchestra, Dennis Wilson, Der Plan, Desktop Error, Destroyer, Devendra Banhart, DEVO, Dhruv Visvanath, Diane Birch, Dion, Dinosaur Jr., Dionne Warwick, Dirty Projectors, Disq, The Divine Comedy, DJみそしるとMCごはん [DJ Misoshiru to MC Gohan], The Do, Docteur Nico, Doctor Prats, Dodgy, ドードー [Dodo], dokka no umi, Donald Fagen, Donny Hathaway, Danny Kortchmer, Donovan, The Doors, Double Famous, Dr. Buzzard's Original Savannah Band, Dr. John, Duke Ellington, The Duckworth Lewis Method, The Dukes Of Stratospher, The Durutti Column, Dustin Wong, The Dylan Group, The Eagles, The Eaton Canyon Royal Ensemble, ECD, Echo & the Bunnymen, Eden Ahbez, Eddi Reader, Ed Sheeran, Edwyn Collins, Eel, eels, Eggstone, Egberto Gismonti, 808 State, Electric Light Orchestra, Electro Acholi Kaboom From Northern Uganda, Electronic, Ella Fitzgerald, Elliott Smith, Elvis Costello, Elvis Presley, Elza Doolittle, Emiliana Torrini, Emily King, 遠藤賢司 [Endo Kenji], エンドウシンゴ [Endo Shingo], Enigma, Ennio Morricone, Enjoy Music Club, Enoch Light, Epic45, Eric Clapton, ermhoi, Erykah Badu, Erik Satie, Esperanza Spalding, Esquivel!, Esso Trinidad Steel Band, Eternity's Children, The Everly Brothers, Everything But The Girl, Everything Everything, The Explorers Club, Faces, Fairport Convention, Fanfare Ciocarlia, Fairground Attraction, Fatboy Slim, Feist, Fats Domino, Fela Kuti, Felut, Femi Kuti, Fennesz, Ferrante & Teicher, The Field, The Field Mice, The Fifth Avenue Band, Fiona Apple, First Aid Kit, fishmans, The Five Satins, FKA Twigs, The 5th Dimention, The Flaming Lips, Flanger, Fleet Foxes, FINNES, Firehorse, Fleetwood Mac, Flipper's Guitar, Flo Morrissey, Flume, Flying Lotus, The Flying Pickets, For Tracy Hyde, Fountains of Wayne, The Four Freshmen, 四枝筆樂團 [Four Pens], Four Tet, Frakkur, France Gall, Francis Lai, Francois de Roubaix, Frank Barecellini, Frankie Cosmos, Frankie Valli & The Four Seasons, Frank Sinatra, Frank Zappa, Franz Ferdinand, Fred Waring & His Pennsylvanians, The Free Design, F.S. Blumm, フジファブリック [Fujifabrid], 藤岡みなみ&ザ・モローンズ [Fujioka Minami & The Morones], galajapolymo, Gargle, Gary Clark Jr., Gary Usher, Gastr Del sol, Gavin Bryars, Genesis, Geoffrey Oryema, George Gershwin, George Harrison, ぎがもえか [Giga Moeka], Giloy Mere, A Girl Called Eddy, Gilbert O'Sullivan, Glenn Gould, Glen Campbell, Glenn Miller, G. Love & Special Sauce, ゴダイゴ [Godiego], Godley and Creme, GoGo Penguin, Going Under Ground, Gorillaz, Gorky's Zygotic Mynci, Gotye, Grace VanderWaal, グランドファーザーズ [Grand Fathers], GREAT3, Green Day, Gregory And The Hawk, Gregory Porter, Gretchen Parlato, Grimes, Grischa Lichtenberger, Grizzly Bear, Gryffin, グッドラックヘイワ [Good Luck Heiwa], Gutevolk, ハナ肇とクレージーキャッツ [Hana Hajime To Crazy Cats], ハナレグミ [Hanaregumi], はいからさん [Haikara San], HAIM, hajimepop, Hal Blaine, ハルメンズ [Halmens], Hammoc, はっぴいえんど [Happy End], Happy Mondays, Harold Budd, Harpers Bizarre, Harry Nilsson, 長谷川白紙 [Hasegawa Hakushi], 蓮沼執太 [Hasunuma Shuta], 初恋の嵐 [Hatsukoi No Arashi], ヘクとパスカル [Hec To Pascal], HEIZE, Helado Negro, Helen Merrill, Helios, Hello and Roll, Henry Mancini, Hermeto Pascoal, Hey Marseilles, ヒゲの未亡人 [Hige No Mibojin], The High Llamas, Hildur Guonadottir, hi-posi, Hirth Martinez, The Hit Parade, 羊文学 [Hitsuji Bungaku], Hoagy Carmichael, The Hollies, HONNE, 星野源 [Hoshino Gen], 細野晴臣 [Hosono Haruomi], The Housemartins, Hsaing Waing, Hugh Masekela, I Am Robot And Proud, Ian Broudie, Ian Brown, Iggy Pop, イルリメ [Illreme], 今川宇宙の夢日記 [Imagawa Uchu no Yumenikki], 忌野清志郎 [Imawano Kiyoshiro], I'm From Barcelona, Immaru EL, The Immediate Family, Inara George, インナージャーニー [Inner Journey], The Innocence Mission, Interactivo, Inu, 入江陽 [Irie Yo], イロメガネ [Iromegane], Iron & Wine, Isan, 石川さゆり [Ishikawa Sayuri], Ishq, Ivan Lins, ivy, Jackie and Roy, Jacob Collier, Jackson Browne, Jaco Pastorius, JAGATARA, Jaipur Kawa Brass Band, The Jam, James Blake, James Iha, The James Hunter Six, James Taylor, Jamie Cullum, Jamilla Woods, Jamiroquai, Janelle Monae, Jane Siberry, Janet Klein and her Parlor Boys, Japan, Jason Falkner, Jason Mraz, Jd Allen, Jean-Jacques Perrey, Jeff Buckley, Jeff Lynne, Jeffrey Foskett, Jellyfish, Jens Lekman, jeremy messersmith, Jessie Reyz, The Jesus and Mary Chain, Jhameel, Jherek Bischoff, Jim O'Rouke, Jimmy Webb, Joachim Cooder, Joan Armatrading, Joana Queiroz, Joao Gilberto, Jockstrap, Johann Johannnson, John Cage, John Cale, John Coltrane, John Fahey, John legend, John Lennon, Johnny Marr, John McEntire, John Sebastian, John Simon, John Zone, Jo Lawry, Jon Brion, Jon Hassell, Jon Hopkins, Joni Mitchell, Jonsi, Jose Melis, Joshua Blackmore, Joy Division, Juana Molina, Judee Sill, Juice WRLD, Julian Cope, Julian Lennon, Julianna Barwick, 17歳とベルリンの壁 [Jyunanasai To Berlin No Kabe], 純度タカシ [Jyundo Takashi], 影山朋子 [Kageyama Tomoko], Kaitlyn Aurelia Smith, Kalabrese, Kamasi Washington, KAN, かねこきわの [Kaneko "canon" Kiwano], 金子麻友美 [Kaneko Mayumi], 金延幸子 [Kanenobu Sachiko], 菅野よう子 [Kanno Youko], 仮谷せいら [Kariya Seira], Karl Hyde, 笠置シヅ子 [Kasagi Shizuko], 片岡知子 [Kataoka Tomoko], Kate Micucci, Kate TV, 川本真琴 [Kawamoto Makoto], 加山雄三 [Kayama Yuzo], Keith Kenniff a.k.a. Helios, Kele Okereke, Kelsey Lu, Kendrick Lamar, Kera, Kero Kero Bonito, Kenny Rankin, Kevin Ayers, Kid Creole And The Coconuts, きえアンダーソン [Kie Anderson], 菊池万博 [Kikuchi Banpaku], The Killers, Kimbra, 君島大空 [Kimishima Ozora], Kimonos, 奇妙礼太郎 [Kimyo Reitaro], King Crimson, King Gnu, King Krule, The Kinks, 木下美紗都 [Kinoshita Misato], Kip Hanrahan, Kishi Bashi, 小林しの [Kobayashi Shino], 古賀小由実 [Koga Sayumi], 恋は魔物 [Koi Ha Mamono], 紺野メイ [Konno Mei], Konore, 小坂忠 [Kosaka Chu], コトリンゴ [Kotringo], Kraftwerk, Kronos Quartet, KT Tunstall, 熊谷彩春 [Kumagai Iroha], Kurt Vile, Kyson, The Ladybug Transistor, Ladysmith Black Mambazo, Lali Puna, Lamar Holley, Lambert Hendricks and Ross, Lana Del Rey, Lang Lee, La Ong Fong, LA-PPISCH, Laraaji, Larry Knechtel, Larry & The Mento Boys, The La's, Laura Marling, Laura Mvula, Laura Nyro, Laurel Halo, Lauryn Hill, Lee 'Scratch' Perry, The Left Banke, The Legenddary Stardust Cowboy, The Leisure Society, The Lomon Pipers, The Lemon Twigs, Lenny Kravitz, Leon Russell, Leroy Holmes, Les Baxter, Lianne La Havas, Lia Pamina, The Lickerish Quartet, The Lightning Seeds, The Like, The Lilac Time, lilil, Linda Lewis, Linda Ronstadt, 林以樂 [Lin Yiloh], Linus of Hollywood, Little Creatures, Little Dragon, Little Feat, little moa, littro rettle, Little Richard, Little Tempo, Liquid Liquid, Liyana Fizi, L?K?O, The Loch Ness Mouse, Lo-Fang, Long Vacation, Look De Bouk, Lord Mouse & The Kalypso Katz, The Lotus Eaters, Louis Armstrong, Louis Cole, Louis Philippe, Louis Prima, Lou Reed, Love, ラブリーサマーちゃん [Lovely Summer Chan], The Lovin' Spoonful, Lucas Arruda, Lucy Rose, Lucy Wainwright Roche, Lucky Tapes, Lunacco, Lykke Li, Mabel, Mac DeMarco, Macy Gray, Mae Defays, The Magnetic Fields, Mahmundi. Maika Loubte, Mala, The Mamas & the Papas, Manfred Mann, Manic Street Preachers, Mano Negra, Manu Dibango, Manuel, Mapstation, Margaret Glaspy, Margo Guryan, Maria Muldaur, Marianne Faithfull, Marika Hackman, Mari Persen, Mari Wilson, Marker Starling, Martin Denny, Mart'nalia, Marvin Gaye, 松尾清憲 [Matsuo Kiyonori], 松尾竜平 [Matsuo Ryuhei], Matthw Sweet, Mavis Staples, Maxine Sullivan, mayuluca, Max Gowan, Max Richter, Melody's Echo Chamber, Melon, Melt-Banana, Mel Torme, Memoryhouse, Mental Abstrato, Mercury Rev, Meritxell Neddermann, The Meters, MGMT, Michael Nyman, Michel Legrand, ミチノヒ [Michinohi], Microdisney, microstar, Mika, Mike Oldfield, Miles Davis, The Millennium, Milton Nascimento, 3776, 嶺川貴子 [Minekawa Takako], mintone, Miriam Makeba, Mirko Casadei, MISOLA, Mitski, 水ゐ涼 [Mizui Ryo], Mogwai, Momus, The Monkees, The Monochrome Set, Molly Burch, Morning Star, ムッシュかまやつ [Monsieur Kamayatsu], Mor Thiam, Monty Python, Moondog, The Moonglows, moonriders, Morrisey, Mose Allison, Mount Kimbie, Mouse On Mars, Moya Brennan, mue, mum, Mura Masa, Mutual Benefit, My Bloody Valentine, M.Ward, 中村佳穂 [Nakamura Kaho], 中村一義 [Nakamura Kazuyoshi], Napoleon XIV, narqn ratan, 鳴らした場合 [Narashita Baai], Natalia Lafourcade, Nathalie Joachim and Spektral Quartet, The National, Nat King Cole, ザ・なつやすみバンド [The Natsuyasumi Band], Nav Katze, ネクライトーキー [Necrytalkie], Negicco, ねごと [Negoto], Neil Innes, Neil Sedaka, Neil Young, Nelson Riddle, Neneh Cherry, Ned Doheny, NEU!, The Neville Brothers, New Order, New Found Glory, New Musik, The New Pornographers, Newton Faulkner, Nick Cave, Nick De Caro and Orchestra, Nick Drake, Nick Lowe, Nico, The 1975, 二階堂和美 [Nikaido Kazumi], に角すい [Nikakusui], Nile Rodgers, Nils Frahm, Nina Simone, Nino Ferrer, Nino Rota, 西山小雨 [Nishiyama Kosame], Noel Wells, No Lie-Sense, nombres, 野見祐二 [Nomi Yuji], のん [Non], Nona Reeves, Norah Jones, Nous, NRBQ, Nujabes, ナンバーガール [Number Girl], Oasis, Ocean Colour Scene, オフコース [Off Course], 小田和正 [Oda Kazumasa], of Montreal, 小川美潮 [Ogawa Mishio], 岡田徹 [Okada Toru], 岡村靖幸 [Okamura Yasuyuki], OK Go, Okuna Tsahan Zam, Olafur Arnalds, The Olivia Tremor Control, Open Reel Ensemble, 大友良英 [Otomo Yoshihide], Orange Juice, 大貫妙子 [Oonuki Taeko], オオルタイチ [Ooru Taichi], 大滝詠一 [Ootaki Eiichi], 大槻美奈 [Ootsuki Mina], The Orb, Orbital, 折坂悠太 [Orisaka Yuta], Original The Orioles, オリジナル・ラヴ [Original Love], Orwell, Orwaell, Os Mutantes, Otis Redding, Oval, Owen Pallett, Owsley, 小山田壮平 [Oyamada Souhei], 小沢健二 [Ozawa Kenji], Ozomatli, The Pains Of Being Pure At Heart, The Pale Fountains, Panda Bear, Pantaya Seinfuramyain, Papas Fritas, The Paradise Bangkok Molam International Band, Pascal Comelade, パスカルズ [Pascals], パソコン音楽クラブ [Pasokon Ongaku Club], Passion Pit, Pastel Pants, The Pastels, Pat Metheny, Patti Smith, Paul Butterfield, Paul Heaton, Paul Leonard-Morgan, Paul McCartney, Paul Simon, Paul Steel, Paul Weller, Paul Williams, ザ・ピーナッツ [The Peanuts], ペンネンネンネンネン・ネネムズ [Pennennennennen Nenems], Penguin Cafe, Penguin Cafe Orchestra, The Penguins, People Like Us, Pere Ubu, Perfume, パール兄弟 [Perl Brothers], Perrey and Kingsley, Pete Astor, Peter Bjorn and John, Peter Brodick, Peter Cat Recording Co., Peter CottonTale, Peter Gabriel, Peter Gallway, Peter Hammill, Petty Booka, Pharrell Williams, Philip Glass, Phony Ppl, piana, Pierre Barouh, Pinhas and Sons, Pink Floyd, Pixies, Plastics, P-MODEL, The Poguess, The Police, The Polyphonic Spree, Pomplamoose, Pone Nyet, The Pop Group, ポップしなないで [Pop Shinanaide], ポータブル・ロック [Portable Rock], POP ETC, Port of Notes, Portishead, The Postal Service, Predawn, Prefab Sprout, Prefuse 73, Primal Scream, Prince, Priscilla Ahn, Procol Harum, The Producers, Public Image Ltd., Puffy, Pugwash, PUNPEE, Purnamasi Yogamaya, Pyon2, Pyrolator, Quantic, Queen, くじら [Qujila], くるり [Quruli], Rabbit!, Radiohead, Rafat Blechacz, Raihan, Ramones, Ramsey Lewis, Rancho Aparte, Randy Newman, Ray Davis, Raymond Scott, The Rah Band, Ravi Shanker, Razika, RCサクセション [RC Succession], Real Estate, Reed and Caroline, Regina Spektor, rei harakami, レキシ [Rekishi], R.E.M., re:plus, The Residents, Rhye, RIDE, The Righteous Brothers, Ringo Starr, Ritomo, Robbie Robertson, Roberta Flack, Robert Fripp, Robert Glasper, Robert Wyatt, Roddy Frame, Roger Eno, Roger Joseph Maning Jr., Roger McGuinn, Roger Nichols & The Small Circle of Friends, The Rolling Stones, Rome Fortune, The Ronettes, Ron Sexsmith, Rostam, ROTH BART BARON, ルルルルズ [Rourourourous], Roxy Music, Roy Ayers, Royksopp, R+R=Now, Rufus Wainwright, Rupert Hine, The Ruttles, Ry Cooder, さだまさし [Sada Masashi], Sadistic Mika Band, さがゆき [Saga Yuki], Sagittarius, Salt Water Traffy, Saint Etienne, 齋藤アリーナ [Saito Aliina], サカナクション [Sakanaction], 坂本九 [Sakamoto Kyu], 坂本櫻 [Sakamoto Sakura] , SAKE ROCK, 崎山蒼志 [Sakiyama Soushi], Sakura, Salif Keita, Sally Seltmann, Salt Cathedral, Sam Prekop, Sam Smith, Sam Wilkes, Sananda Maitreya, 佐野元春 [Sano Motoharu], Sara Gazarek, sasuke, さとこ [Satoco], さとうもか [Sato Moka], 佐藤奈々子 [Sato Nanako], Savath & Savalas, さわひろ子 [Sawa Hiroko], さよならポニーテール [Sayonara Ponytail], スチャダラパー [Schadaraprr], Scott Gilmore, Scritti Politti, The Sea and Cake, Sean Lennon, Sean O'Hagan. Seeker Lover Keeper, せのしすたぁ [Senosister], Serge Gainsbourg, Sergio Mendes, serpentwithfeet, Serph, Seun Kuti, Sex Pistols, Sharon Van Etten, She & Him, 柴田聡子 [Shibata Satoko], 柴山一幸 [Shibayama Ikkou], 渋さ知らズオーケストラ [Shibusa Shirazu Orchestra], Shiggy Jr., シーナアキコ [Shina Akiko], 椎名琴音 [Shina Kotone], Shing02, Shlomo Gronich, shinowa, The Shins, SHISHAMO, Sigur Ros, Simon & Garfunkel, Sketch Show, スカート [Skirt], SlouDance, Sly & The Family Stone, Small Faces, The Smashing Pumpkins, The Smiths, Smokey Robinson, Snarky Puppy, Snow Patrol, Sofia Bolt, Soft Machine, Solange, SOLEIL, Solvent, Sondre Lerche, The Sonic Executive Sessions, Sonny Rollins, SOUL FLOWER UNION, 相対性理論 [Soutaisei Riron], Spampinato Brothers, Sparks, The Specials, Speech, Spiritualized, スピッツ [Spitz], Staff Benda Bilili, Stella Donnelly, Stina Nordenstam, Sting, Styrofoam, Squarepusher, Squeeze, Stafraenn Hakon, Stealing Sheep, Steely Dan, Stephen Bishop, Stephen Duffy, Stephane Grappelli, Stereolab, Stereophonics, Steve Gadd, Steve Reich, Stevie Wonder, The Stone Roses, The Stooges, Strawberry Alarm Clock, Strawberry Switchblade, The Strokes, St.Vincent, The Style Council, Styrofoam, スチョリ [Sucholi], Suede, Sufjan Stevens, The Sugarcubes, Sugar Me, Sugar Minott, 水中、それは苦しい [Suichu Soreha Kurushi], Summer Camp, Summer Dress, 砂原良徳 [Sunahara Yoshinori], Sun Ra, Sunturns, SUPER BUTTER DOG, スーパーカー [Supercar], Super Furry Animals, Supergrass, Superorganism, スッパマイクロパンチョップ [Suppa Micro Panchop], 鈴木博文 [Suzuki Hirobumi], 鈴木慶一 [Suzuki Keiichi], 鈴木さえ子 [Suzuki Saeko], 鈴木祥子 [Suzuki Shoko], Swan Dive, Swing Slow, Swissy, Syd Barrett, Sylvan Esso, Sylvie Vartan, Syreeta, Tahiti 80, 高田渡 [Takada Wataru], 高木正勝 [Takagi Masakatsu], 高橋幸宏 [Takahashi Yukihiro], 高井息吹 [Takai Ibuki], 高浪慶太郎 [Takanami Keitaro], 高野寛 [Takano Hiroshi], 竹田糸摩 [Takeda Itoma], 竹村延和 [Takemura Nobukazu], Talking Heads, たま [Tama], tamachang, 環ROY [Tamaki Roy], Tamas Wells, 田中茉裕 [Tanaka Mahiro], 田中ミズホ [Tanaka Mizuho], 種ともこ [Tane Tomoko], 谷口マルタ正明 [Taniguchi Maruta Masaaki], Tame Impala, Tears for Fears, Tedeschi Trucks Band, Teenage Fanclub, Teen Daze, Tegan and Sara, Telefon Tel Aviv, Television, Television Personalitys, Telex, 10cc, Tenniscoats, Tenorierie, Terence Trent D'Arby, Terror Jr, Terry Riley, Test Pattern, Theodore Shapiro, They Might Be Giants, Think of One, Thomas Dolby, Thomas Fersen, The Three Suns, Thundercat, ザ・タイマーズ [The Timers], Tinariwen, Tinashe, Todd Rundgren, Todd Terje, tofubeats, The Tokens, トクマルシューゴ [Tokumaru Shugo], Tokyo No.1 Soul Set, Tomato N' Pine, Tom Tom Club, Tom Ze, トンチ [Tonchi], Tony Allen, Tony Mansfield, トニー谷 [Tony Tani], Toro Y Moi, Tortoise, Toumani Diavate, Tracey Thorn, Tracy Chapman, Trashcan Sinatras, Travis, Trent J Tho, Trevor Horn, tricot, TriBeCastan, Triste Jenero, Tujiko Noriko, Tune-Yards, Tycho, Tyler,The Creator, 宇宙ネコ子 [Uchu Nekoko], 上野洋子 [Ueno Youko], Ulrich Schnauss, Ultramarine, Ultravox, 杏窪彌 [Un Amin], Underworld, ユニコーン [Unicorn], uniquad, Unknown Mortal Orchestra, 宇多田ヒカル [Utada Hikaru], U2, U-Zhaan, VAGABOND cpa, Van Dyke Parks, Vampire Weekend, Van Morrison, Valerie Carter, The Vaselines, Vashti Bunyan, Vegyn, Velvet Crush, The Velvet Undergroud, VIDEOTAPEMUSIC, Vince Guaraldi, Vishwa Mohan Bhatt, 魏如萱 [Waa Wei], The Walker Roaders, Warren Zevon, Washed Out, わたしのねがいごと。[Watashi No Negaigoto], The Weather Prophetts, 水曜日のカンパネラ [Wednesday Campanella], The Weeknd, Weezer, Wendy Arrowsmith, Weather Report, The Who, Wilco, William Orbit, Willie Nelson, Wings, Wire, The Wiseley Brothers, The Wombats, ワンダフル・ボーイズ [Wonderful Boys], World Party, World Standard, Wondermints, Would-Be-Goods, XTC, The xx, やくしまるえつこ [Yakushimaru Etsuko], Yamandu Costa, 山下達郎 [Yamashita Tatsuro], Yann Tiersen, ヤン富田 [Yann Tomita], 矢野顕子 [Yano Akiko], yanokami, The Yardbirs, Ya-To-I, YEK, The Yellow Balloon, YeYe, Yo La Tengo, 嫁入りランド [Yomeiri Land], 吉村かおり [Yoshimura Kaori], Young Marble Giants, The Young Rascals, Youssou N'Dour, Yo-Yo Ma, Yukari Fresh, YUKI, 諭吉佳作/men [Yukichi Kasaku men], 雪村いづみ [Yukimura Izumi], Yumi Zouma, Zabadak, 在日ファンク [Zainichi Funk], Zakir Hussain, ZAZEN BOYS, Zeebra, ZELDA, The Zombies, zubico, ずみを [Zumiwo]


■ 著作権について
このサイトはコピーレフトとします。ただし私がパクってきた写真や引用文の著作権はそれぞれの著作者に帰属します。

■ About copyright
This site is copyleft. However, the copyrights of the pictures and quotes I have received belong to their respective authors.