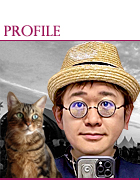 PROFILE 山下スキル yamashita sukiru
■ ロマンティスト、ビリーバー。1972年 東京風街に生まれる。風が吹いたら遅刻して、雨が降ったらお休みで、なんやかんやで現在に至る。
■ 音楽が好きです。ソフトロック、ポストロック、エレクトロニカ、フォークロア、現代芸術、漫画とペヤングを食べてます。たまにDTM、DJ、ベース、ウクレレします。
 物心つく前から動物が好きで、2匹の猫と暮らしてます。星が好きです。寝るのが好きです。女の子が好きです。イントネーションはス↑キル (マサルやサトルの感じ) です。

twitter : sukiru_ql
soundcloud : sukiru_ql
instagram : sukiru_ql
youtube : sukiruQuietLife
facebook : やってません

■ FAVORITE MUSICIANS ...pop!! humorous!! and sensitive...
ロマンティスト、ビリーバー。1972年東京風街に生まれる。現在に至る。 romanticist, believer. born in kazemachi, tokyo in 1972. to now.
好きな音楽 [favorite music] : pop!! humorous!! and sensitive...
あーた [Aata], Acid Pauli, Adhitia Sofyan, Adrian Belew, Afrocubism, aiko, airezias, Alabama Shakes, The Album leaf, Amadou & Mariam, amiinA, Animal Collective, annasekai, Aphex Twin, Arca, Arcade Fire, Aretha Franklin, Asgeir, ayU tokiO, Aztec Camera, Balkan Beat Box, The Beach Boys, The Beatles, Beck, Belle and Sebastian, Bjork, Blossom Dearie, Blur, Bob Dorough, Bon Iver, Brian Eno, Brian Wilson, Bruno Pernadas, Buddy Holly, Buffalo Daughter, Burt Bacharach, Carlos Nino, Cat Power, Carnation, cero, CHAI, The Chieftains, Childish Gambino, 超大陸パンゲア [Cho-Tairiku Pangaea], Chvrches, clammbon, Claude Thornhill, CLOW, Computer Magic, Contrary Parade, Controversial Spark, Cornelius, 盧廣仲 [Crowd Lu], Cosmo Sheldrake, Dave Brubeck, David Bowie, David Byrne, Diane Birch, Dirty Projectors, The Divine Comedy, The do, Double Famous, Duke Ellington, ECD, Edwyn Collins, eels, Elliott Smith, Elvis Costello, Elvis Presley, 遠藤賢司 [Endo Kenji], Esperanza Spalding, Fela Kuti, fishmans, FKA Twigs, France Gall, Fountains of Wayne, The Four Freshmen, The Flaming Lips, Fleet Foxes, The Flipper's Guitar, Flo Morrissey, Francois de Roubaix, Franz Ferdinand, 四枝筆樂團 [Four Pens], George Harrison, Glenn Gould, Godley and Creme, GoGo Penguin, Gregory Porter, はっぴいえんど [Happy End], Harpers Bizarre, 蓮沼執太 [Hasunuma Shuta], Hermeto Pascoal, The High Llamas, Hoagy Carmichael, 細野晴臣 [Hosono Haruomi], Hugh Masekela, 今川宇宙の夢日記 [Imagawa Uchu no Yumenikki], 忌野清志郎 [Imawano Kiyoshiro], Jackie and Roy, James Blake, James Taylor, Jens Lekman, John Cale, John Fahey, Joni Mitchell, Juana Molina, Kamasi Washington, かねこきわの [Kaneko "canon" Kiwano], 金子麻友美 [Kaneko Mayumi], Kendrick Lamar, Kimbra, The Kinks, 木下美紗都 [Kinoshita Misato], Kip Hanrahan, Kishi Bashi, 古賀小由実 [Koga Sayumi], Kraftwerk, Kurt Vile, Lambert Hendricks and Ross, Laura Nyro, Ladysmith Black Mambazo, Lee Lang, The Lilac Time, lilil, Linus of Hollywood, Louis Cole, Lucy Rose, Mala, Manfred Mann, Margo Guryan, Martin Denny, Mavis Staples, mayuluca, Mel Torme, Michel Legrand, microstar, The Millennium, ムッシュかまやつ [Monsieur Kamayatsu], Moondog, moonriders, Mount Kimbie, mum, My Bloody Valentine, Negicco, Neil Sedaka, Nick Lowe, Nombres, Norah Jones, NRBQ, 小田和正 [Oda Kazumasa], 大滝詠一 [Ootaki Eiichi], 岡田徹 [Okada Toru], 岡村靖幸 [Okamura Yasuyuki], The Orb, 折坂悠太 [Orisaka Yuta], 小沢健二 [Ozawa Kenji], Owen Pallett, Pascal Comelade, Patti Smith, Paul McCartney, Paul Simon, Paul Weller, Penguin Cafe Orchestra, Perfume, パール兄弟 [Perl Brothers], Peter Gabriel, Philip Glass, Prefab Sprout, Priscilla Ahn, PSY-S, Quantic, くるり [Quruli], Raihan, Rancho Aparte, Razika, Regina Spektor, rei harakami, レキシ [Rekishi], The Residents, Rhye, RIDE, Robert Glasper, Robert Wyatt, Roger Nicols, Ron Sexsmith, Rostam, Roy Ayers, さだまさし [Sada Masashi], さとうもか [Sato Moka], Scritti Politti, The Sea and Cake, serpentwithfeet, 柴山一幸 [Shibayama Ikkou], Snarky Puppy, Sondre Lerche, 相対性理論 [Soutaisei Riron], Spitz, Sparks, Squeeze, Stephen Bishop, Stephane Grappelli, Stereolab, Steve Reich, St.Vincent, Sufjan Stevens, sugar me, Superorganism, suppa micro pamchopp, 鈴木慶一 [Suzuki Keiichi], 高野寛 [Takano Hiroshi], Talking Heads, Tamas Wells, 田中ミズホ [Tanaka Mizuho], 種ともこ [Tane Tomoko], Tears for Fears, Teen Daze, Television Personalitys, Telex, 10cc, Tinariwen, Todd Rundgren, tofubeats, Toro Y Moi, Trashcan Sinatras, TriBeCastan, Tune-Yards, Tycho, Ulrich Schnauss, Van Dyke Parks, Vampire Weekend, Vashti Bunyan, World Standard, Yamandu Costa, ヤン富田 [Yann Tomita], 矢野顕子 [Yano Akiko], ya-to-i, YEK, 吉村かおり [Yoshimura Kaori], Youssou N'Dour, XTC, The xx, The Zombies, ずみを [Zumiwo]...


■ 著作権について
このサイトはコピーレフトとします。ただし私がパクってきた写真や引用文の著作権はそれぞれの著作者に帰属します。